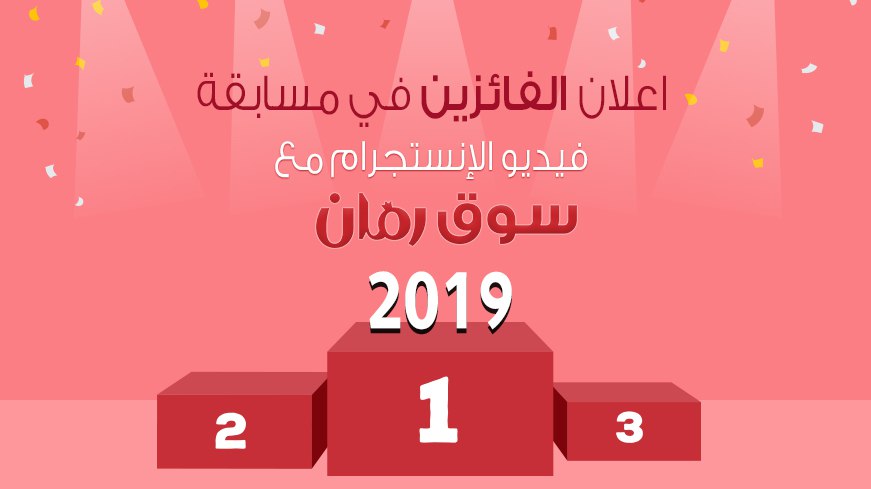 The announcement of the winners in the Instagram Video Competition
Finally, the competition has finished after five months, and the eRomman market is a pleasure to announce the winners. It offers the warmest congratulations to the winners of the 2019 Instagram Video Competition, which started on September 20, 2019, until January 31, 2020.
During this competition, 116 contestants competed to make many videos with innovative and distinctive ideas. They have 2 million views during the competition in the Instagram app, through which the competition took place.
Unfortunately, only 14 participants will be awarded a prize for the competition. There are 3 subscribers in the first three ranks, and there are ten others who received appreciation awards as their participation had a large number of viewers. For that, eRumman market decided to choose one winner who will obtain the creative award for the one who presented the best video with the best content.
We offer the winners of the Instagram video contest the best blessings, and they are
The three winners of the first places
• The winner of the first place
Influencer: Kholoud Hammoud Al-Jawhari
Prize: SAR 2,000 (SAR 1,000 in cash, SAR 1,000 shopping voucher)
Instagram Account: tjarb_lodh
Views: 628,563 views.
• The winner of the second place
Influencer: Jude Osman Sheikh Abdul Rahman
Prize: SAR1,000 (SAR 500 in cash, SAR 500 shopping voucher)
Instagram Account: joo0d_stars
Views:511,956 views.
• The winner of the third-place
Influencer: Sheikha Nasser Musleh Al-Harbi
Prize: SAR 600 (SAR 300 in cash, SAR 300 shopping voucher)
Instagram Account: shee_1418
Views:451,542 views.
Award winners
eRumman market was keen to present an appreciation award which is a shopping voucher of SAR 50, as some participants received a large number of views:
• Influencer: Maha Mohammed
Views: 106,449
Instagram Account:moka_beauty
• Influencer: Ala Khalid Mohammed
Views:103,924
Instagram account: jyh
• Influencer: Reem Mohammed Al-Otaibi
Views:74,369
Instagram Account:norah_ghena
• Influential: Maryam Sirajuddin
Views:36,130
Instagram Account: mariim4
Influencer: Faisal Hussein Al-Hamidi
Views:27,404
Instagram Account:Fx___m
• Influencer: Ali Ahmed Zakaria Al-Hawsawi
Views: 11,052
Instagram Account:3li18
• Influencer: Laura Ahmed
Views: 9,108
Instagram Account: lora_a20
• Influential: Ghazalan Fahad Hammoud Al-Qahtani
Views:8,191
Instagram Account: ziz_fqh
• Influential: Ward Abdul Aziz
Views:6,376
Instagram Account: girl_rt
• Influencer: Khuloud Ramadan Al-Omari
Views:5,983
Instagram Account:ki3.1
Creative Content Award
In view of the content of the videos, eRomman market team decided to give the award for the best content presented with a prize of SAR 400 in cash. The winner of the Creative video competition:
• Influencer: Mashari Ghazi Hilal
Views:1,963
Instagram account: msharihilal
Our best wishes to all in the upcoming competitions.