What is included?
1x Lace Petti Romper
1x Headband
 
EXTREME CUTENESS GUARANTEED!
Are you looking for a beautiful and adorable baby dress for your precious bundle of joy to create picture-perfect moments in her upcoming birthday?
Look no further! Lets celebrate her birthday and special life events in style with TINY BIBIYA LACE PETTI ROMPER AND HEADBAND SET.
 
We are sure that it will surprise the audience and make the first birthday of your daughter one of the most special and memorable days in her life.
 
Our Lace Petti Romper has lovely layers of laces, made of high quality and stretchy spandex and comes with a stunning headband to uplift her to a sweet princess. Also, the gorgeous big bow accent adds a sparkly touch for extra birthday flair.



NEED MORE REASONS TO CHOOSE OUR PHOTO PROPS?
  Available in eye-catching colors and made with quality and care
  Durable and long lasting. Can be worn long even after the big day
  Perfect for birthdays, cake smashes, weddings, pictures, and special events or as an everyday wear
  A cute and fashionable gift for a baby shower and the birthdays of your best friends daughter.
  Fits up to 3 years of age
 
OUR PROMISE!
We at Tiny Bibiya Cuteness proud to tell you that were dedicated to maintain quality and durability actually, were crazy about it!
Our inventory is packed with precious styles and colors, so take a minute and browse them all.
SO, WHY WAIT? SHOP WITH CONFIDENCE AND GET READY FOR SOME SERIOUS ADORABLENESS!
LACE PETTI ROMPER MEASUREMENTS AND RECOMMENDED SIZES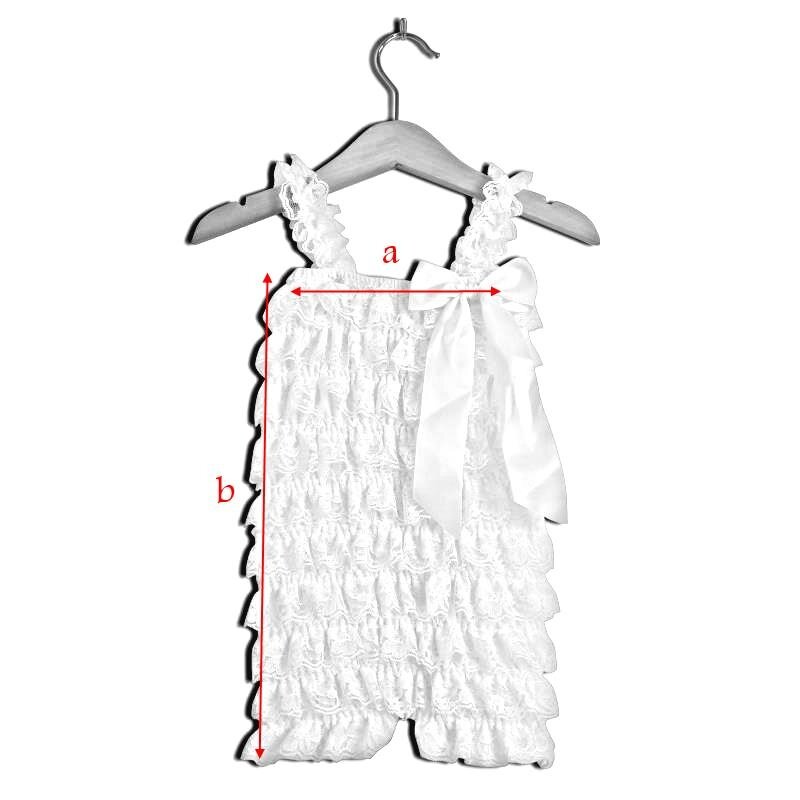 Size: S
Chest, a (cm): 18 x 2 = 36
Length, b (cm): 30
Recommended Age: 0 - 3 months

Size: M
Chest, a (cm): 19 x 2 = 38
Length, b (cm): 37
Recommended Age: 3 - 12 months

Size: L
Chest, a (cm): 20 x 2 = 40
Length, b (cm): 43
Recommended Age: 12 - 24 months

Size: XL
Chest, a (cm): 21 x 2 = 42
Length, b (cm): 50
Recommended Age: 2 - 3 years

Note: When you first get the romper, you will think it is too small for your baby. Please try it on first before asking for an exchange. In most cases, the romper suits your baby well because this romper is stretchable. If too loose, overall won't look good.