The BRIGHT TOTE (winner of RedDot Design Award) is a lady tote bag featuring integrated mini LED lights, enabling users to find their keys, glasses, make-up, bottles, MP3 player or mobile phone quickly, even in the dark. The ligth turns on or off automatically when the handbag's zipper is opened or closed. Included is also a detachable pouch for storing coins, tissuses and credit cards.
 
Features:
An executive-inspired tote bag with a built-in bright warm LED.

Zipper closure that has a magnetic sensor that switches on the LED to help searching for things in the dark.

Organized front pockets for quick access to mobile phone, note pad, bottle and umbrella.

Spacious inner pockets for your personal belongings and accessories.

A soft, velvety sleeve that can hold a 13†laptop or tablet.

Detachable pouch for storing coins, credit card, name cards and tissue.

Cross-body shoulder strap for added convenience and flexibility.

Uses 2pcs light weight AAA battery to power the LED.
Specifications
| | |
| --- | --- |
| Â Color | Â Black |
| Â Material | Â Fashion Nylon |
| Â Size | Â 15.5"(W) x 12.5"(H) x 4" (D |
|  Weight |   ±900 grams |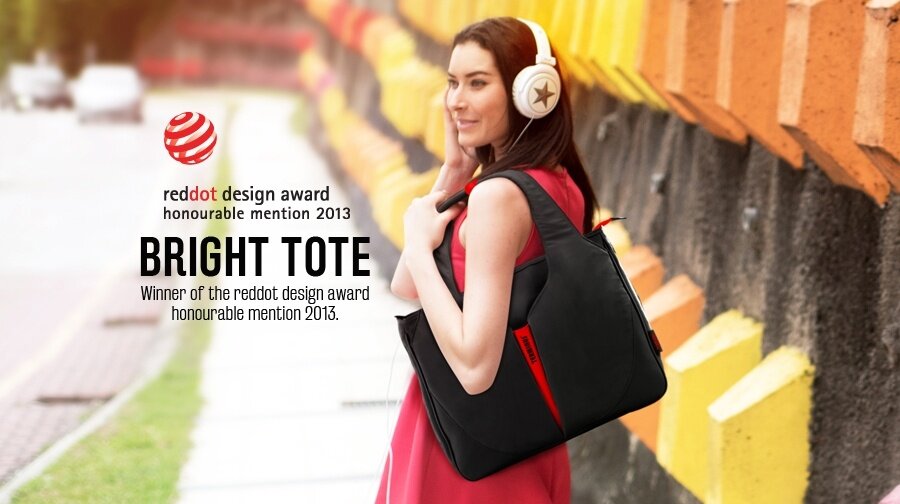 BRIGHT TOTE 3.0 is an enhanced design of the award winning tote bag. While it still inherits all the award winning features, more features are added in for better convenient and flexibility.