Designed just for you!
Skmei 1016, a sport LED watch with double movt, show us the fusion of modern and classic. What is more, Skmei 1016 has 8 kinds of different colors, shows you 2 kinds of different style - Cool style and vibrant style. Cool style uses black color as a primary design element to give a classic and cool feeling; Vibrant style shows you the youthful vitality and passion. Skmei 1016, designed just for you!

Main Features:
- Imported Japan movt guarantees precise and punctual time.
- Double movt - Analog and digital to display time, you have two kinds of choice to get time.
- With back-light function, you can see time clearly even in the dark place.
- 50M water resistance, convenient for your daily life, you can wear it to do daily washing, even do a cold shower.
- Day and date display, you can know daily date without calendar.
- Alarm function, when is set, you can be wake up at any time.
- Stopwatch function, without a timer, you also can count time.
- Soft rubber band, comfortable to wear.
Brand: Skmei
People: Unisex table
Watch style: Fashion&Casual,Outdoor Sports,LED
Available Color: Black,White,Red,Blue,Green,Orange,Gold,Black and white
Shape of the dial: Round
Movement type: Double-movtz
Display type: Analog-Digital
Case material: PC
Band material: Rubber
Clasp type: Folding clasp with safety
Special features: Alarm Clock,Day,Date,Stopwatch
Water resistance : 50 meters
The dial thickness:
1.2 cm / 0.47 inches
The dial diameter:
4.4 cm / 1.73 inches
0.080
Package weight:
0.101 kg
Package size (L x W x H):
23.40 x 5.40 x 2.20 cm / 9.21 x 2.13 x 0.87 inches
Package Contents: 1 x Skmei 1016 Watch
About Water-resistant Watches
Water Resistant Watches are sealed to witstand some pressure.
Water resistance is tested in measurements of atmosphere (ATM). Each ATM denotes 10 meters of static water-pressure. This is not the depth to which a watch can be worn. Many watch cases will list the basic measurement of 1 ATM as "water-resistant." These watches will withstand small splashes of water but should not be worn while washing the hands or submerging the hands in water.
Remember, water resistance is tested under static conditions. Wearing a watch which is 50 metres water resistant in water will expose the watch to a much greater pressure than during a 50 metre static test. Therefore the number of metres shown on the watch does not indicate the depth that the watch can be taken to.
Here is a general guide
50M = 5ATM = Shower Proof - it's ok to get it wet a bit.
100M = 10ATM = Extended Water Exposure good for swimming or snorkeling.
200M = 20ATM = Pressure Resistant made for Scuba and Skin Diving.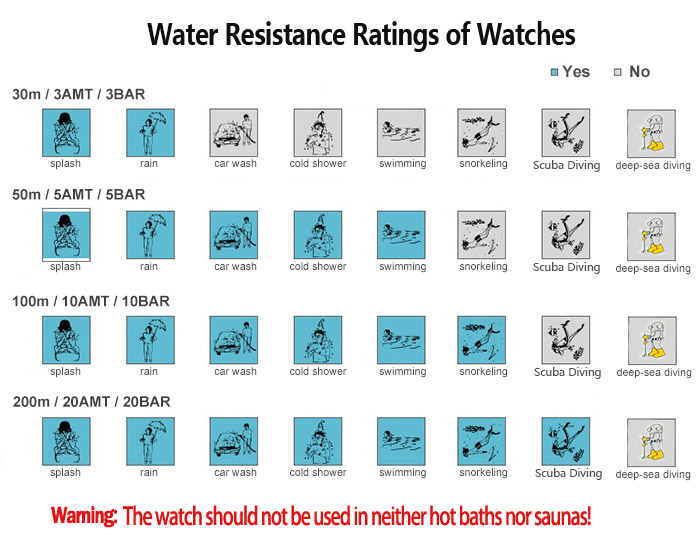 Q: A 100M watch is surely strong enough on a shallow dive?!
A: No! It isn't because it has not been high pressure sealed. 100M watches are only good for Snorkeling!
Q: What will happen if I try to dive with a watch that is less than 200M Resistant?
A: The watch's seal will be broken, it will flood and break..irrepairably.
Q: So which watch to buy?
A: Think about what you need it for and bear in mind that Scuba Watches (200M) look really cool but tend to be very heavy, which makes them uncomfortable for everyday use.