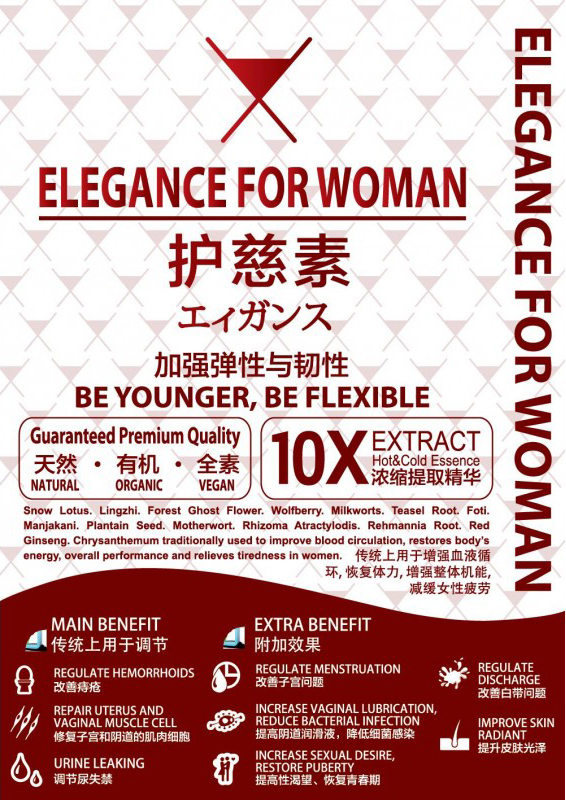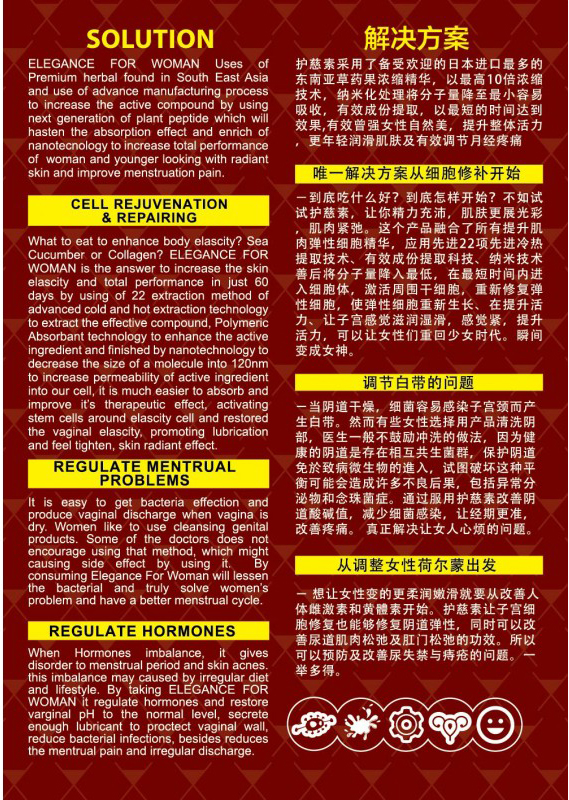 REJU ELEGANCE FOR WOMAN uses premium herbs found in South East Asia and use of advance manufacturing process to increase the active compound by using next generation of plant peptide which will hasten the absorption effect and enrich of nanotechnology to increase total performance of woman and younger looking with radiant skin and improve menstruation pain.
REJU ELEGANCE FOR WOMAN helps to increase skin elasticity, regulate female hormones which affects vaginal discharge and contributes to vaginal bacterial infection. This supplement also helps to regulate menstrual cycle and reduces skin acne caused by hormonal imbalance and irregular diet.  ELEGANCE FOR WOMAN also helps restore vaginal PH to the correct level.
Indication:Traditionally used to improve blood circulation,restores body's energy,overall performance and relieves tiredness in women.
Usage:1 to 2 capsule,2 times a day,after meal.
Ingredients:Snow Lotus, Chrusanthemum, Red Ginseng, Motherwort, Plaintain Seed, Manjakani, Fo Ti, Teasel Root, Milkworts, Wolfberry, Forest Ghost Flower, Lingzhi.
Caution:
Store below 30C
This is traditional medicine.Please consult your doctor if symptoms worsen.
Keep out of reach of children
Contraindicated in pregnant women
Safe use in lactating women and children has been established.
Do not exceed the state dose.
Safety on long term use had not been established.
MAL NO: MAL19972622T Diluluskan oleh Kementerian Kesihatan Malaysia
60 cap x 330mg