Welcome To The NAVIFORCE World!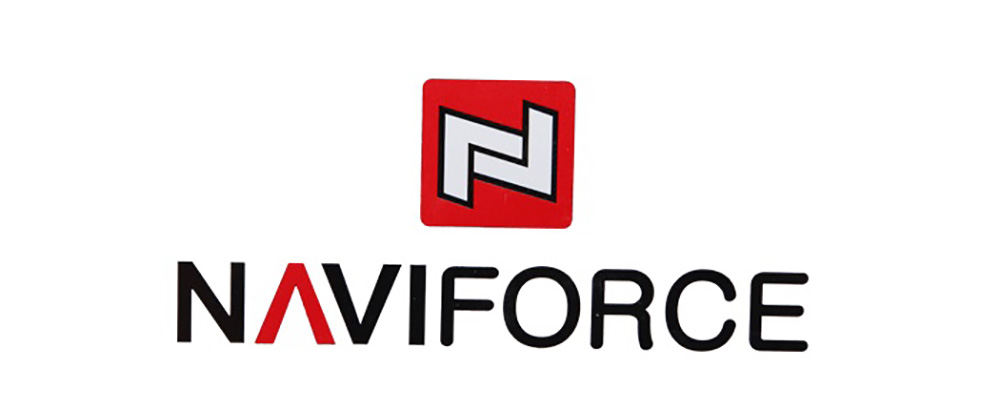 NAVIFORCE, which combines the NAVY and FORCE together, expresses its purposes of being the dominant force and leader in watch industry.
Every NAVIFORCE Watch has the words For Dream on its back cover, that's intended for memory of our dreams when we are kids, then students, as well as pursuing our dreams about future. Time is the engine that drives our dream chasing, so please cherish the time and treasure the spirit that inspires us to be who we are.
For anyone with a dream -- That's the idea behind the design of every NAVIFORCE watch!
NAVIFORCE NF9028 Fashionable Men Watch:
Movement
- Original Japan Seiko AL33 quartz movement, guarantees precise and punctual time
Week and date display
- Date and week are displayed, just like a live calendar on your wrist
30m water resistant
- Convenient for your daily life, you can wear it to do daily washing and don't need to worry about the rainwater splash
Exquisite workmanship
- High abrasion resistant mineral glass mirror + environmental IP vacuum electroplating case + classic alloy bezel + durable stainless steel back cover and PU watchband
- No luminous function, it won't be luminous at night
Brand: Naviforce
Watches categories: Male table
Watch style: Fashion
Style elements: Big dial
Available color: Beige,Gray,Red,White
Movement type: Quartz watch
Shape of the dial: Round
Display type: Analog
Hour formats: 12 Hour
Watch-head: Ordinary
Case material: Alloy
Case color: Black
Band material: PU
Clasp type: Pin buckle
Band color: Black,Brown
Special features: Date,Week
Water resistance : 30 meters
The dial thickness:
12mm
The dial diameter:
47mm
The band width:
24mm
Wearable length:
24.6cm / 9.69 inches
0.082
Package weight:
0.103 kg
Product size (L x W x H):
24.60 x 5.10 x 1.20 cm / 9.69 x 2.01 x 0.47 inches
Package size (L x W x H):
26.00 x 6.00 x 3.00 cm / 10.24 x 2.36 x 1.18 inches
Package Contents: 1 x NAVIFORCE NF9028 Luxury Men Quartz Watch Analog Sport Wristwatch
About Water-resistant Watches
Water Resistant Watches are sealed to witstand some pressure.
Water resistance is tested in measurements of atmosphere (ATM). Each ATM denotes 10 meters of static water-pressure. This is not the depth to which a watch can be worn. Many watch cases will list the basic measurement of 1 ATM as "water-resistant." These watches will withstand small splashes of water but should not be worn while washing the hands or submerging the hands in water.
Remember, water resistance is tested under static conditions. Wearing a watch which is 50 metres water resistant in water will expose the watch to a much greater pressure than during a 50 metre static test. Therefore the number of metres shown on the watch does not indicate the depth that the watch can be taken to.
Here is a general guide
50M = 5ATM = Shower Proof - it's ok to get it wet a bit.
100M = 10ATM = Extended Water Exposure good for swimming or snorkeling.
200M = 20ATM = Pressure Resistant made for Scuba and Skin Diving.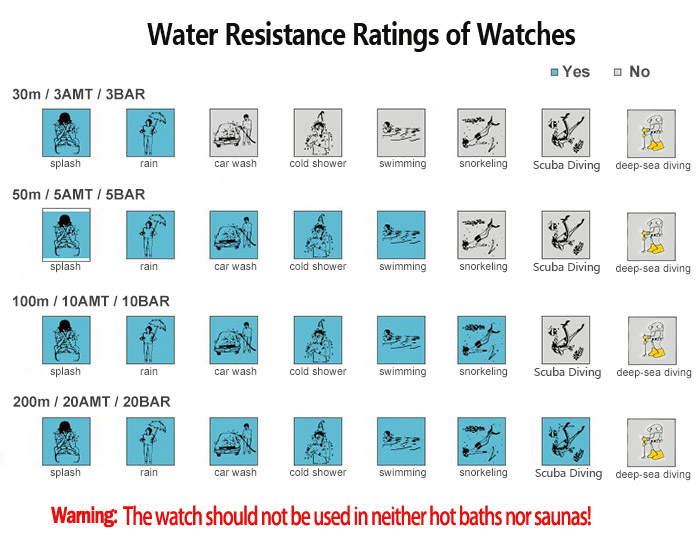 Q: A 100M watch is surely strong enough on a shallow dive?!
A: No! It isn't because it has not been high pressure sealed. 100M watches are only good for Snorkeling!
Q: What will happen if I try to dive with a watch that is less than 200M Resistant?
A: The watch's seal will be broken, it will flood and break..irrepairably.
Q: So which watch to buy?
A: Think about what you need it for and bear in mind that Scuba Watches (200M) look really cool but tend to be very heavy, which makes them uncomfortable for everyday use.