● JARAGAR H057M tourbillion automatic mechanical watch, an amazing watch designed for men.
● Automatic self-wind movement, keep time precise.
● Working sub-dials displaying week and month , as well as date display, a live calendar on your hand.
● Tourbillion cage at the six o'clock, and raotated border, all make it extraordinary watch for you.
● Vintage hollow out design, stainless steel case and see-through back cover, unique design and sturdy structure.
● High hardness glass mirror, anti-scratch and smooth.
● Roman numeral scales and Arabic numbers in the rotation bezel, show a kind of Roman style.
● Leather strap, soft and comfortable to wear.
● Pin buckle, convenient to adjust the length and not easy to fall off.
● Luminous pointers, easy to know the time without light.
● Life water resistant, can do daily activities when wearing it, but not for swimming and bathing.
● A great gift for your friends and relatives.
Brand: Jaragar
Watches categories: Male table
Watch style: Hollow-out
Style elements: Hollow Out
Movement type: Automatic mechanical watch
Shape of the dial: Round
Display type: Analog
The bottom of the table: Gone
Watch-head: Screw-plug
Case material: Stainless Steel
Band material: Leather
Clasp type: Pin buckle
Special features: Working sub-dial,Calendar,Month,Date,Week,Luminous,Tourbillon
Water resistance : Life water resistant
The dial thickness:
1.3 cm / 0.51 inches
The dial diameter:
4.5 cm / 1.77 inches
The band width:
2 cm / 0.79 inches
Wearable length:
19 - 23 cm / 7.48 - 9.06 inches
0.094
Package weight:
0.116 kg
Product size (L x W x H):
25.50 x 4.50 x 1.30 cm / 10.04 x 1.77 x 0.51 inches
Package size (L x W x H):
26.50 x 5.50 x 2.30 cm / 10.43 x 2.17 x 0.91 inches
Package Contents: 1 x JARAGAR H057M Tourbillion Automatic Mechanical Watch
About Water-resistant Watches
Water Resistant Watches are sealed to witstand some pressure.
Water resistance is tested in measurements of atmosphere (ATM). Each ATM denotes 10 meters of static water-pressure. This is not the depth to which a watch can be worn. Many watch cases will list the basic measurement of 1 ATM as "water-resistant." These watches will withstand small splashes of water but should not be worn while washing the hands or submerging the hands in water.
Remember, water resistance is tested under static conditions. Wearing a watch which is 50 metres water resistant in water will expose the watch to a much greater pressure than during a 50 metre static test. Therefore the number of metres shown on the watch does not indicate the depth that the watch can be taken to.
Here is a general guide
50M = 5ATM = Shower Proof - it's ok to get it wet a bit.
100M = 10ATM = Extended Water Exposure good for swimming or snorkeling.
200M = 20ATM = Pressure Resistant made for Scuba and Skin Diving.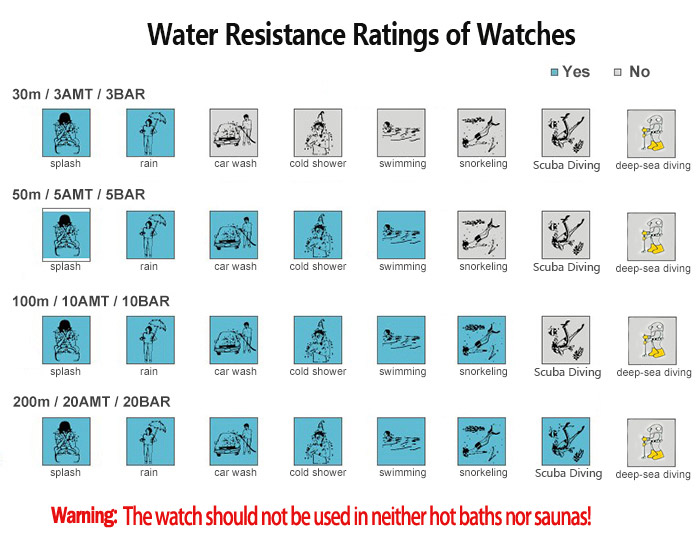 Q: A 100M watch is surely strong enough on a shallow dive?!
A: No! It isn't because it has not been high pressure sealed. 100M watches are only good for Snorkeling!
Q: What will happen if I try to dive with a watch that is less than 200M Resistant?
A: The watch's seal will be broken, it will flood and break..irrepairably.
Q: So which watch to buy?
A: Think about what you need it for and bear in mind that Scuba Watches (200M) look really cool but tend to be very heavy, which makes them uncomfortable for everyday use.