UV filters
are used to reduce haziness created by ultraviolet light, to which photographic film and sensors are sensitive, but not the human eye. A
UV filter
passes all or most of the visual spectrum, and blocks ultraviolet radiation. It can be left on the lens for nearly all shots:
UV filters
are often used mainly for lens protection in the same way as clear filters.
Why use of protection UV filters?
1. If the lens is dropped, the filter can protect the front lens from suffering scratches or breakage.
2. The filter can be cleaned frequently without damage to the lens surface or coatings, a filter scratched by cleaning is much less expensive to replace than a lens.
3. If there is blowing sand the filter may protect the lens from abrasion from sand.
Features:
Well protect your camera lens from scratches, dust, dirt, moisture and fingerprints
Reduce unwanted ultra-violet light and atmospheric haze which its caused by blue radiation and ultraviolet
Can be used with both auto focus and manual focus cameras and lenses
Fits any lens with a
40.5mm
filter thread, manual or autofocus, digital or film
Serves as a great and inexpensive lens protector
A must have accessory for every photographer's kit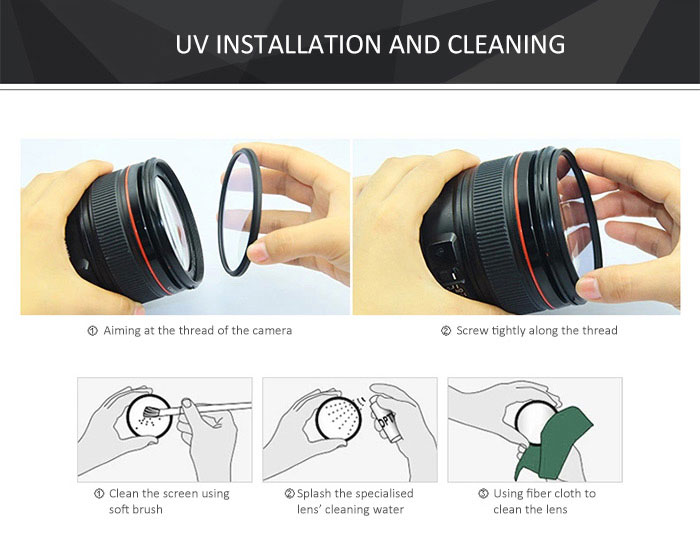 Size: 40.5mm
Type: UV Filter
Package weight:
0.059 kg
Product size (L x W x H):
4.2 x 4.2 x 0.6 cm / 1.65 x 1.65 x 0.24 inches
Package size (L x W x H):
7 x 7 x 1.6 cm / 2.75 x 2.75 x 0.63 inches
Package Contents: 1 x 40.5mm Camera UV Protection Filter Lens for Canon Nikon Sony, 1 x Plastic Case